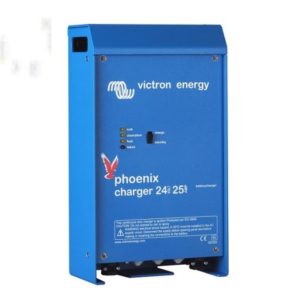 Victron Charger Phoenix 24V/25A (2+1)
Description
Adaptive 4-stage charge characteristics: bulk – absorption – float – storage.
The right amount of charge: variable absorption time.
Preventing damage due to excessive gassing: the BatterySafe mode.
Less maintenance and aging when the battery is not in use: the Storage mode.
Increase battery life: temperature compensation.
Battery voltage sense.
Universal 90-265 V AC input voltage range and also suitable for DC supply (AC-DC and DC-DC operation).
Dimensions: 350x200x108 mm